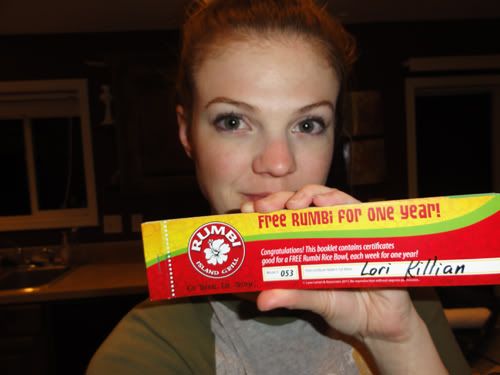 Our neighbor stopped by last night to tell us that he was going to camp out all night in front of the new restaurant, Rumbi, in order to get a free meal once a week for a year.
We decided that you, Christina, Cody, and I would all go and camp out too. We just couldn't say no to free food! Especially since we loved their food when we ate at a Rumbi's last summer.
So after dropping Brooklyn off to stay the night at your parents we went and pitched a tent in front of Rumbi and along one of the busiest roads in Idaho Falls... go figure.
We stayed up eating Cold Stone, playing Texas Hold 'em, watching movies and YouTube videos and getting angry at people who were laying on their horns as they passed.
After only a few hours of sleep and a lot of waiting and waiting and waiting we were finally awarded our Rumbi free meal booklets!!
The whole thing was sort of anti-climatic since the first coupon doesn't work for another month, but the place is so delicious that we are okay with waiting.
Since our day has been chalk full of projects and checking things off each others "honey do" lists, we are officially beat and are about to fall into bed where we will dream about Rumbi teriyaki bowls. Yum.