N
OTE TO DAD - YOU MAY NOT READ THIS.
My story starts off in Manteca, California.
I was raised with three sisters and a brother by two amazing parents.
I was a happy-go-lucky child; always doing crazy, spontaneous things that put grey hairs on my dad's head.
SKYDIVING, 2005
After high school I made my way to Rexburg, Idaho to go to school at BYU-Idaho, where I'm sure my dad's hair was glad to be rid of me.
Idaho was a shock for me.
I never thought I would de-thaw after that first semester. I got frost bite on my finger. I slipped down frozen steps at least ten times. I found out the hard way that blowing my hair dry before walking to class was a MUST!
I spent my summers in Idaho in the water. I did dives and back flips off cliffs. I floated in the lakes. I played in the rain during those awesome summer storms. I even jumped into a few canals, sometimes in the middle of the night and sometimes without any clothes.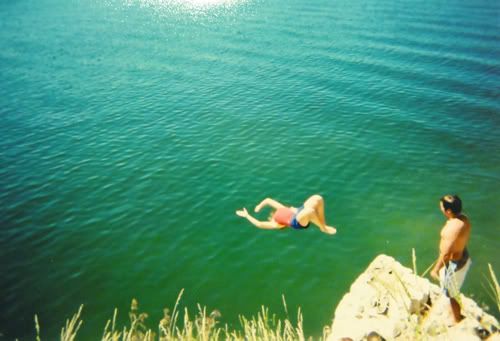 MY FIRST BACKFLIP OFF A CLIFF, 2005
I learned about all a girl could learn from those first few years in Idaho.
I learned how to sneak in and out of my apartment late at night. But before I mastered that, I learned how to charm the Dean into not punishing me for it. I learned how to skinny dip with the best of em'. I learned how to sneak into school buildings in the middle of the night to finish projects that were due the next day without being caught by the campus security (there were a few close calls. I was always dang good at hide and go seek). I learned how to cry myself to sleep and then slowing mend my broken heart back together. I learned how to camp in the snow without freezing, and yes, it does involve cuddling with boys. I learned how to get by on three to four hours of sleep each night.
Mostly I learned how to have massive amounts of fun while still pulling out decent grades.
Then during my junior year, I met a boy.
That boy also liked to have lots of fun. And that's what we did: we had fun.
Finally the summer was coming to an end and I was about to head off to an internship many, many miles away.
I was crazy about that boy but my newly mended heart did not want to be given away again. I tried to convince it other wise but I believe my heart, not my head, controls my mouth.
After much arguing and kissing and attempted break ups from me, we still had no idea what would come of us.
So that boy drove those many miles to drop me off in another state and then he kissed me, told me he loved me and got in his car and drove away.
All I could think was: Oh crap. What have I done?
Finding out that my internship didn't start for four weeks, I packed my things and was back in Idaho and in that boys arms within 24 hours.
Three weeks later I had a ring on my finger and I permanent smile plastered to my face.
NOVEMBER 2007
On a warm day in November we were sealed for time and all eternity in the Oakland, California temple. I remember almost every second of that day.
A little over a year later I found out I was pregnant and spent the next eight months hunched over a toilet.
7 MONTHS PREGNANT
Then our lives changed forever.
I gave birth to the most beautiful baby girl ever.
We couldn't fathom how this 6 lbs. 6 oz. of cuteness could possible be ours.
Seriously, we just didn't get it. Were they really going to let us take her home from the hospital? Don't they know that we don't know the first thing about a baby?
But with massive amounts of help and a lot frantic phone calls to my mom, we got by.
We are still figuring it out and although it's not always cotton candy and butterflys, we love it.