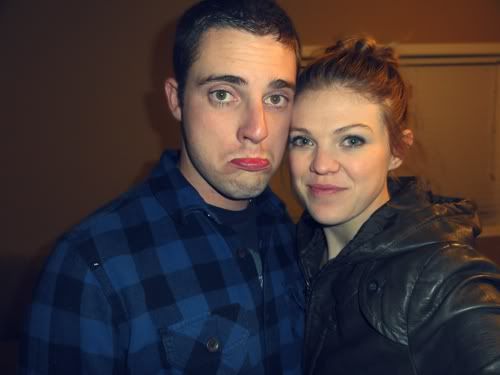 KURT IS SAD OUR DATE DIDN'T TURN OUT.
Tonight you tried to take me out on a date.
You had the night all planned out. Except nothing went right.
You needed your ecclesiastical endorsement turned in tomorrow so you could sign up for classes for next semester but you couldn't find the one you already had signed by our bishop (you claim Brooklyn must have eaten it.) So we were going to have to stop by the church on our way out of town to have him sign another.
Which means we didn't have a lot of time for dinner so we decided to go through the drive through at Cafe Rio for their Taco Night Tuesday. Lame. I really dislike eating in the car.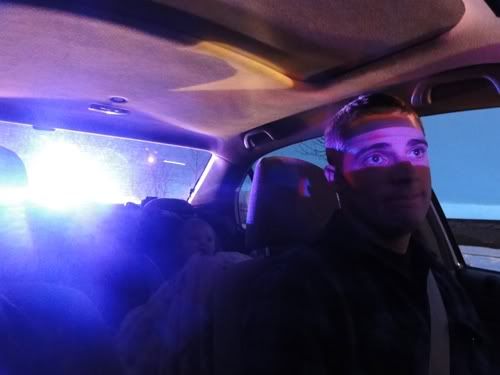 KURT WAITING TO SEE IF HE WILL GET A TICKET.
Then on the way to drop Brooklyn off at your parents house you got pulled over. Ha. I thought it was a little funny. Of course you got out of the ticket. It pays to have a dad as a cop and it really pays that the cop that pulled you over went snowmobiling with your dad three days ago.
Now we were really behind schedule.
So we dropped Brooklyn off and then drove slowly over to the church (you didn't want to risk getting pulled over again) where, of course, the bishop was not. He was at home. Sick. And he was apparently not taking any phone calls.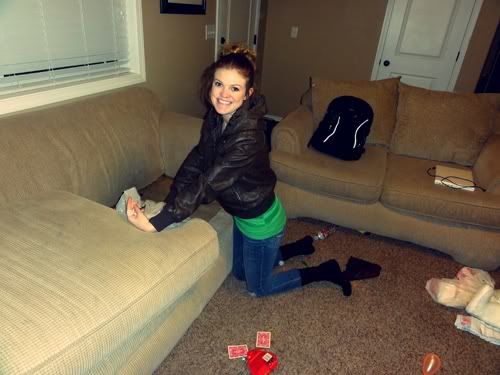 LORI LOOKING FOR

KURTS

PAPER IN THE COUCH AND FINDING A LOT OF OTHER GOOD STUFF.
So we drove home and tore our house apart looking for that dang ecclesiastical endorsement. Finally you found it in Brooklyn's toy box. I guess she didn't eat, she was just hiding it.
By now it was too late to go to

Rexburg

as planned since we wanted to get Brooklyn home in time for bedtime.
So we spent the rest of the night playing Pinochle and throwing goldfish into each other's mouths. And at each other's heads when the other team won.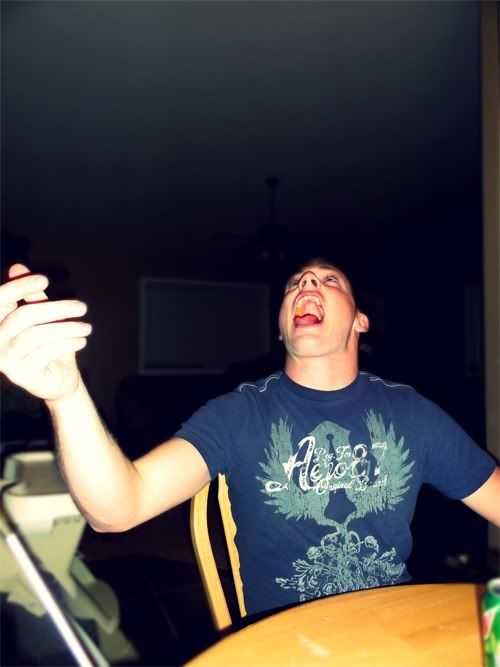 KURT TRYING TO CATCH GOLDFISH IN HIS MOUTH AND BLAMING THE WIND WHEN HE FAILED.
It wasn't exactly the date you planned (we will have to save that for another night) but it was still good to have a night together.