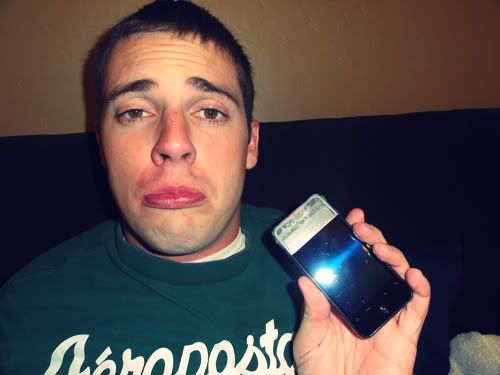 KURTS PHONE IS ALL TAPED UP SO IT WON'T CUT HIM.
We are where phones come when they commit crimes only punishable by death.
When a phone kills another phones mom, it comes to us.
And we take it from there. It's quite astonishing how quickly we can carry out the punishment.
Two days ago you sent your current phone to our personal phone graveyard by dropping it on the ground and shattering it's screen.
Today my phone died a horrific death by drowning in the toilet (which is personally my favorite way to kill em' off.)
But in all seriousness, it was quite embarrassing to make our way into the Verizon store with our heads down like we were five years old and about to tell our mom and dad that we hit a baseball into the neighbors window.
When you saw our friend and neighbor, Tory, who manages the store, he asked "Did you break another one?" and all you could do was hold up two fingers. As in: we managed to not only break one phone this week but we took out two.
Luckily, the guy helped us out (he always does) and sent us on our way.
Now, we are bound and determined and swear up and down that our next phones are going to have a long, drawn out sentence and maybe after a while they will get out on good behavior (ours not theirs.)
P.S. Did you open the blinds in the office? I'm pretty sure all the neighbors caught a good glimpse of my birthday suit.